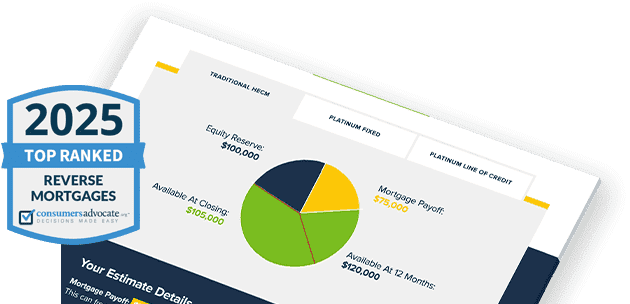 Get a Free, No Obligation Quote in Seconds
Reverse Mortgage Calculator

Lock in today's high home values plus receive a $100 Visa® GIFT CARD for applying by July 31st, 2023!*
We're proud to support our US Military Active Duty and Veterans.
That's why we always offer a $500 discount in honor of those who have served.
By submitting your phone number you are providing your signature and express "written" consent to having Longbridge Financial LLC or our mortgage partners contact you about your inquiry at the phone number you have provided. You agree to be contacted via a live or automated prerecorded telephone call, text message, or email even if you have previously registered on a "do not call" government registry or requested Longbridge to not send marketing information to you. You understand that your telephone company may impose charges on you for these contacts, and you are not required to enter into this agreement as a condition of any Longbridge products or services. You understand that you can revoke this consent at any time by calling Longbridge Financial at 855-523-4326.
For information on how we collect and use personal information, please see our Privacy Notice.
*Gift Card Terms and Conditions are as follows: In order to be eligible for the $100 Visa® Gift Card, an applicant must be a homeowner at least 62 years of age. You must also provide the following information to Longbridge Financial  in  order  to  generate  an  application:  (1)  complete  property  address;  (2)  full  name of all applicants; (3) date of birth of all applicants; (4) estimated home value; (5) balance of mortgage/liens on the property; (6) amount of property taxes and insurance; (7) monthly income; (8) monthly payments on outstanding loans or revolving debt; (9) delinquency history on property taxes or mortgage payments; (10) consent to pull your credit report. Application must be submitted between April 17th and July 31st, 2023 for the $100 Visa® Gift Card to be awarded.  This offer is not available for HECM for Purchase applicants. Limit One Visa® Gift Card per household. Full terms and conditions will be included with the card fulfillment package. A $100 Visa® Gift Card will be mailed to you 4-6 weeks after the completed application is received. It is the sole responsibility of the applicant to provide a valid mailing address for distribution of the Gift Card.  Longbridge is not liable for failure of the applicant to provide valid contact information. Longbridge is not responsible for lost, late, or mutilated Gift Cards. Not to be combined with any other offer except the standard Veteran discount.  Offer is not transferrable. Additional restrictions/conditions/terms may apply and are subject to change or cancelation without notice. Void where prohibited, taxed or restricted by law.
Here's what people like you are saying about us.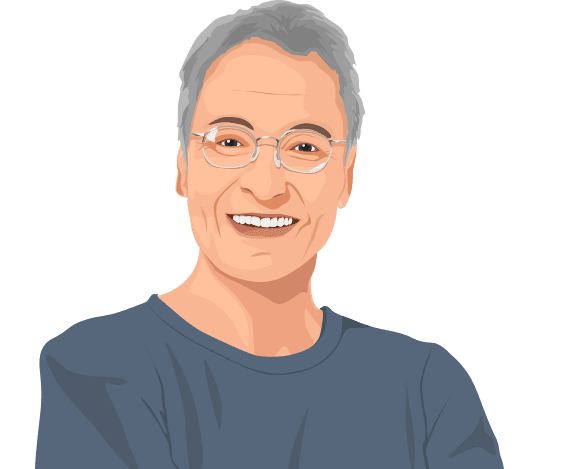 The first question I had was, 'How can you use a reverse mortgage?' The short answer is, any way you want.

He's right: tapping into your home equity with a reverse mortgage gives you many different options for enhancing your retirement plan. It gives you peace of mind for now, and financial protection for the future.
Keep more money on hand to meet everyday bills and expenses
Eliminate or reduce credit card balances or other debts
Help with healthcare expenses
Set aside funds to pay for future long-term care
Make home updates, repairs, or modifications to help you live more comfortably
Avoid making taxable withdrawals from 401(k) or other retirement plans by using reverse mortgage proceeds that are income tax-free*
Establish a line of credit as a financial "safety net," to prepare for unexpected expenses
Or any other purpose
*Consult a financial advisor and appropriate government agencies for any effect on taxes or government benefits.
Do you need to tap into your home equity now, or can you save if for future needs?
Are you on a fixed income, with no other assets?
How long do you and your family plan to live in your home?
Would your spouse want to keep living in the home without you?
At Longbridge, we can assess your financial situation and help you decide, along with your trusted advisors, if a reverse mortgage is right for you. We'll tell you if we feel it isn't your best option-not all lenders will make that promise.
What is a reverse mortgage and how does it work?
What are the benefits of a reverse mortgage?
How does a reverse mortgage compare to a traditional mortgage?
How much can you receive?
How can you receive the funds?
How can it work as part of your retirement plan?
What's the reverse mortgage process?
Get your reverse mortgage quote and kit today: there's no cost or obligation.
Watch this short video to learn more about How Reverse Mortgages Work
Reverse mortgages have become a popular financial tool for homeowners ages 62 and older who are seeking a consumer loan. A reverse mortgage loan allows senior homeowners to access the equity they've built up in their home over the years. Unlike traditional "forward" mortgages, reverse mortgages do not require monthly mortgage payments. Homeowners will still be responsible for insurance, property taxes, and maintenance; however, loan repayment is deferred until the homeowner no longer lives in the home. Since monthly mortgage payments are not required, seniors typically use their reverse mortgage funds as income tax-free cash.
Homeowners who want to qualify for a reverse mortgage must be at least 62 years old and have equity available in their home. Reverse mortgages work by allowing homeowners to convert a portion of their home's equity into cash, based on the total equity available in the home. Loan proceeds can be received in the form of a line of credit, monthly payments, a lump-sum, or any combination of these options. Several factors effect the loan amount which you may qualify for including your home's value, your age, and certain  property requirements set by the Federal Housing Administration's (FHA). You can read more about these requirements here.
"Using a reverse mortgage to tap home equity is one of the most powerful options available to retirees today"